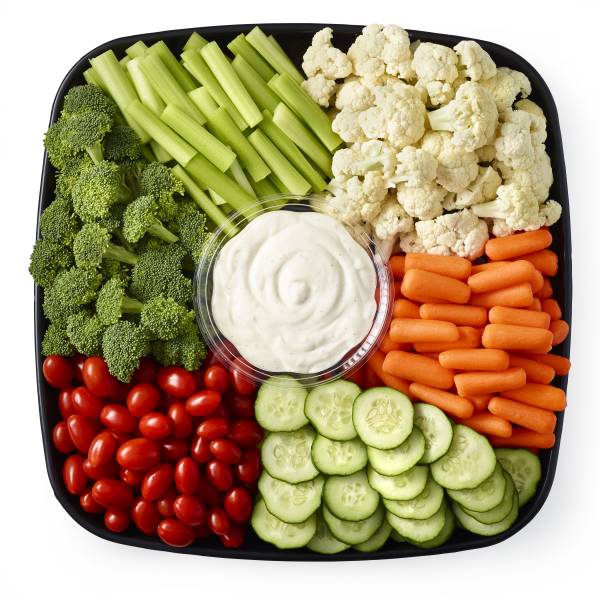 Publix Deli Garden Fresh Vegetable Platter, Large
2320/3660 Cal/Platter
$37.99
Available in Eats
*Required Fields
More Details
---
Ingredients:

Baby Carrots, Grape Tomatoes,Celery, Cauliflower, Broccoli, Cucumber,If Ranch Dressing (Soybean Oil, Water,Buttermilk,Egg Yolks,Vinegar,Salt,Mono-Sodium Glutamate,Food Starch-Modified,Buttermilk Solids, Sugar, Garlic,Spices, Xanthan Gum, Egg White, Onion,Citric Acid, Sorbic Acid, Calcium Disodiumedta To Protect Flavor,Natural Flavor),If Blue Cheese Dressing (Soybean Oil,Buttermilk, Blue Cheese <Cultured Milk,Salt, Cheese Cultures, Enzymes>, Vinegar,Egg Yolk, Sugar, Salt, Spices, Garlic,Xanthan Gum, Yeast Extract, Natural Flavor<Milk>, Sunflower Oil).

Allergens:

Contains Milk, Egg And Soy Ingredients.Processed On Shared Equipment.

Allergen Advisory:

Our department uses the following ingredients in our products: EGGS, FISH, MILK, PEANUTS, SHELLFISH, SOYBEANS, TREE NUTS, WHEAT, SESAME. Even if not listed on labels, please be aware that our products may have come in contact with these ingredients.
2000 calories a day is used for general nutrition advice, but calorie needs vary.
The products listed are available in the Publix GreenWise Market store you selected but may be out of stock and may not be available in other Publix GreenWise Market stores. The information listed originates from the manufacturer or government publications and reflects the most recent information provided by such entities. Product packaging, labeling, formulations and ingredient sourcing can change at any time and Publix GreenWise Market may not receive up-to-date information regarding such changes; thus, Publix GreenWise Market cannot guarantee the accuracy of the information provided and you should not rely on this information. Rather, you are encouraged to read the product labels to obtain the most accurate and up-to-date information. Any prices shown are effective as of today and are subject to change on a day by day basis. Neither Publix GreenWise Market, its content providers nor the manufacturers assume any liability for inaccuracies, misstatements or omissions.