---
Goodness is easy to find.
GreenWise products were created from a shared belief in good, and you can find them throughout our stores. We believe it should be easy to bring home products you can feel good about.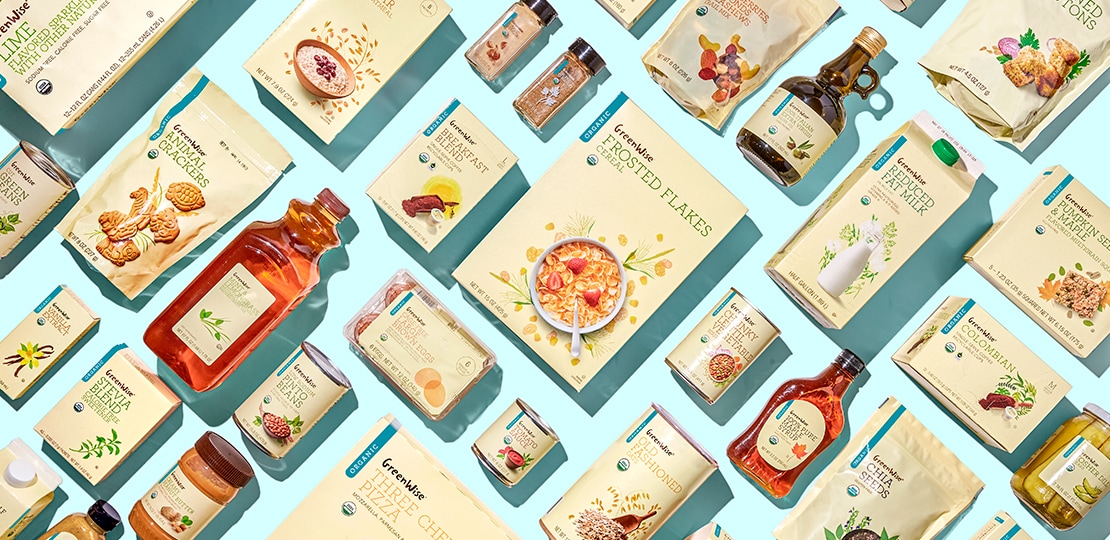 GreenWise products are committed to good.
---
If you're passionate about what you eat and pay attention to what's in your food, look for GreenWise products throughout every Publix GreenWise Market location. Each GreenWise product meets one or more of these strict requirements:
USDA Organic
Made with at least 70% organic ingredients
Made without artificial preservatives, flavors, or color; may contain colors from natural sources
Raised without antibiotics or added hormones; federal regulations prohibit the use of added hormones in poultry and pork; all GreenWise meats are fed a 100% vegetarian diet
Non-food products that make an environmental claim on the package
We've also developed a list of ingredients (below) you won't find in our GreenWise products. We review and update it annually to ensure that it reflects both our strict standards and feedback from you, our customers. In addition to avoiding certain ingredients, GreenWise products use only:
Added colors from natural sources
Flours that are unbleached and unbromated
Expeller-pressed or physically extracted oils
Dairy products from animals that have not received rbST.
We want you to always know where GreenWise products stand when it comes to what's in your food. And what isn't.
*The Food and Drug Administration has determined that there is no significant difference between milk from rbST-treated cows and non-rbST-treated cows.
Made without certain ingredients
---
Publix GreenWise Market is committed to helping you achieve your wellness goals. If you're looking to avoid certain ingredients, our GreenWise foods and beverages - and items with the Made Without icon on their shelf tags - won't contain any of the ingredients listed here.
A
Acesulfame K (acesulfame potassium)
Acetylated esters of mono- and diglycerides
Ammonium chloride
Anisole
Artificial colors (azo dyes, certified colors, food coloring)
Artificial flavors
Aspartame
Astaxanthin (Natural Astaxanthin is acceptable)
Autolyzed yeast extract
Azodicarbonamide (ADA)
B
Benzaldehyde
Benzoates (sodium and potassium)
Benzoyl peroxide
Benzyl alcohol
Bisulfates (sodium and potassium)
Bisulfites (added; metabisulfite, potassium, sodium)
Bleached flour
Bromate (bromated flour, calcium, and potassium)
Brominated vegetable oil (BVO)
Butylated Hydroxyanisole (BHA)
Butylated Hydroxytoluene (BHT)
C
Calcium bromate
Calcium peroxide
Calcium propionate
Calcium sorbate
Calcium stearoyl-2-lactylate
Caprenin
Caramel color (organic is acceptable)
Carmine (cochineal)
Carrageenan
Crystalline fructose
Cyclamates
Cysteine (L-cysteine, as an additive for bread products)
D
DATEM (diacetyl tartaric and fatty acid esters of mono- and diglycerides)
Diacetyl
Dimethylpolysiloxane
Dioctyl sodium sulfosuccinate (DSS)
Disodium guanylate (GMP)
Disodium inosinate (IMP)
Disodium ribonucleotides
E
Erythorbic acid
Ethoxylated Mono and Diglycerides (EMG)
Ethyl vanillin
Ethylenediaminetetraacetic acid (EDTA, disodium and disodium calcium)
Ethoxyquin
H
High fructose corn syrup (HFCS, glucose-fructose syrup, isoglucose)
Hydrogenated oils
L
Lactylated esters of mono- and diglycerides
M
Methyl silicone
Methylene chloride (chloromethane)
Microparticulated whey protein (Simplesse)
Monosodium glutamate (sodium glutamate, MSG)
N
Natamycin
Neotame
Nitrates (sodium and potassium)
Nitrites (sodium and potassium)
P
Parabens
Partially hydrogenated oils
Polydextrose
Polysorbates
Potassium bromate
Potassium sorbate
Propionates (calcium and sodium)
Propyl gallate
Propylene oxide
S
Saccharin (calcium and potassium)
Salatrim
Smoke flavoring (natural smoke flavoring is acceptable)
Sodium aluminum phosphate
Sodium aluminum sulfate
Sodium diacetate
Sodium lauryl sulfate
Sodium propionate
Sodium stearoyl lactylate (sodium stearoyl 2 lactylate)
Sodium tripolyphosphate
Sorbic acid
Sucralose
Sucroglycerides
Sucrose esters
Sucrose polyester (Olestra, Olean)
Sulfites (acceptable if naturally occurring; ammonium sulfite, potassium sulfite, sodium sulfite)
Sulfur dioxide (allowed only in wine made with organic grapes when sulfite concentration is <100 ppm)
T
Tagatose
Tertiary Butylhydroquinone (TBHQ)
V